We have been hard at it with many working bees on the southern trail. This area is particularly heavily infested with lantana, so the going is slow but there is the added benefit of clearing the lantana as we go. We hope to have the property totally cleared of the stuff one day, what a joyous day THAT will be but enough of the day dreamin' . I have been out working on the trail nearly every day, with Toni helping out when she can. I had a day off to go race mountain bikes in Grafton at the
Bom Bom BOMB
, a great event thanks to the awesome work of the guys doing the trails there and to Sue and Trev from Graftons iconic bike shop,
Grafton City Cycles
Built Trail
Some of the trail has been built but it's still virgin, not having been ridden at all, we plan to ride tomorrow morning hopefully !
Log crossing near the trail head
Trail winding through the forest
A log crossing - after
and here's what it looked like before the trail was built but after the lantana was cleared
Log crossing - before !
The area is very heavily wooded, making it great to ride through but often tricky to build, follow
IMBA
Trail building principles and miss all the trees !
Coming out of a corner, between a Stringy Bark (L)
and a TallowWood (R)
A problem ? or an opportunity !
This presented me with an opportunity to do something different.
Trev's Trapezoidal log obstacle (I hope !), "B" line on the left
I am going to try some chain saw "architecture" and use a large fallen tree, cut to suitable lengths to fill in the gaps between these logs. Hopefully I will be making it a trapezoidal shape, something like below albeit with easier approach and departure angles then shown in the image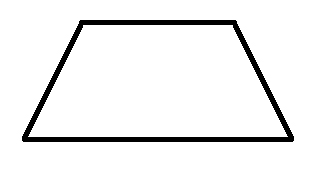 We will be able to ride over, made out of logs, about thigh high.
We'll see how it goes !
Speaking of Lantana
I was saying how thick it is, here's a photo, I tell no lies !
Lantana to be cleared !